This page belongs to the communities surrounding Raheenmore Bog. Whether you are a local community group, heritage group, a men's shed, drama group, play group, school, or a sporting organisation, this section of the Raheenmore site is for you.
Stories and history from the area is currently being compiled by our Public Awareness Manager, Ronan Casey. If you have any interesting stories, photos, information or anything concerning Raheenmore Bog and its environs, please email ronan.casey@npws.gov.ie or call him on 076 1002627.
This is an area of Ireland where even the smallest local story or photograph could make a big impact.
If you have a community web presence, or newsletter or information sheet you'd like to see reach a wider audience, don't hesitate to let Ronan know and it will go up on this site.
We will also link to interesting people and events in the areas surrounding this raised bog.
For example, the noted Irish historian and author Turtle Bunbury has been in the area many times, recording the stories and recollections of old Ireland. In Volume 3 of his best-selling VANISHING IRELAND series of books features a great interview with local farmer Mike Harte, who sadly passed away in 2015.
You can access the interview HERE
A classic example of a midland raised bog and one of the deepest bogs left in Ireland, Raheenmore Bog SAC is one of the finest – and luckiest – LIFE project sites.
With a surface area of over 210 hectares Raheenmore is also one of the biggest of our 12 sites. The peat of Raheenmore is very, very deep – up to 15m in places. It was cut in the past but not to the extent of other bogs in the county (including its immediate, neighbouring bog) which were extensively harvested by machine. Despite it being in remarkable condition today a lot of restoration work is still required.
Alongside its Offaly neighbours Clara and Mongan, it is one of the most extensively studied raised bogs in Ireland. Looking at it on an aeriel map of Ireland it's one of the last surviving Eastern raised bogs in the country.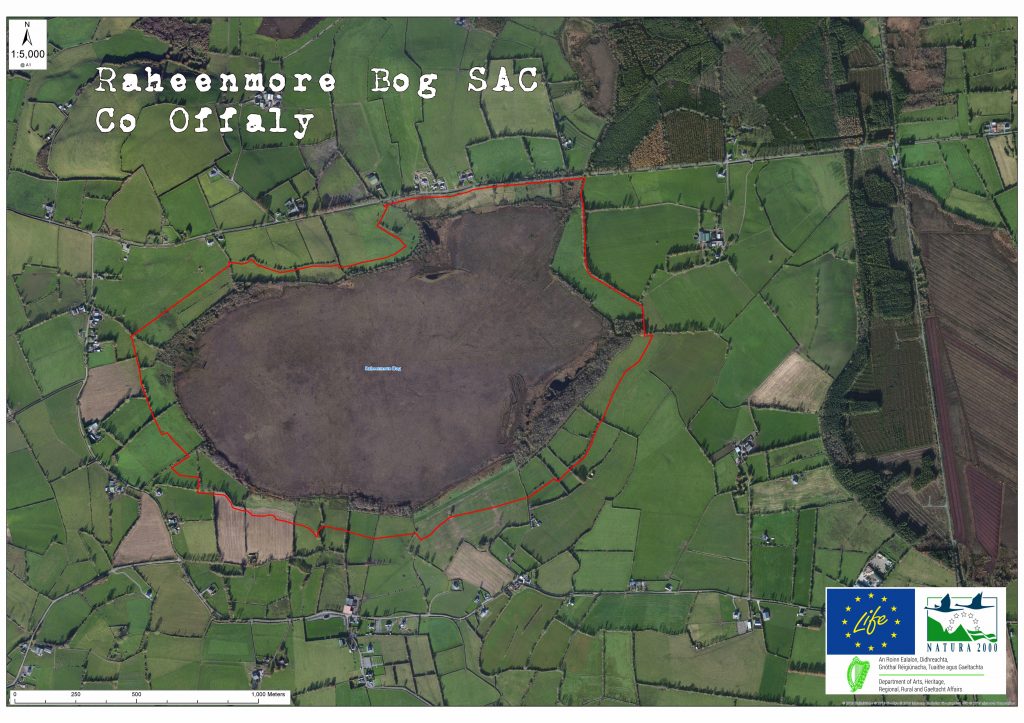 We undertook restoration works here between February and April 2020, installing a total of 150 peat dams to assist with the eco-hydrological restoration of this important bog – adding to previous restoration works undertaken by the NPWS.
This living bog has a history dating back over 10,000 years, but one of the most significant events in its long history happened in the European Conservation Year of 1970, a year that gave the initial impetus for peatland conservation in Ireland.
Bord na Móna's Scientific Officer Tom Barry wrote of the need to preserve good examples of our natural heritage and the company decided to purchase Raheenmore (as well as part of Pollardstown Fen) as its contribution to European Conservation Year. These sites were eventually donated to the National Parks and Wildlife Service. Raheenmore later became an internationally known raised bog when it and Clara were chosen as sites for the pioneering Dutch Irish Raised Bog Study in 1989.
Over the intervening years some restoration work has taken place on the site. The LIFE project will undertake much more, improving the total area of Active Raised Bog by adding over 20 hectares to the existing 40% high bog coverage of ARB.
Raheenmore is a unique raised bog in terms of this project. It developed in a small basin in the catchment of two major river systems – the Brosna and the Boyne. It is situated about 5 km from Daingean in Co. Offaly and 12km from the county town of Tullamore. It is also quite close to the biggest LIFE project site, Clara Bog SAC, and also the Westmeath towns of Tyrrellspass and Kilbeggan.
The total area of uncut high bog is 130.54ha while the remaining 79.47 ha is mostly cutover bog resulting from previous turf-cutting.
Before we came along, the bog was most recently surveyed as part of the Raised Bog Monitoring Project 2011 (Fernandez et al.) According to it, Active Raised Bog (ARB) covers 52.31ha (40.07%) of the high bog area. The highest quality example of ARB consists of Sphagnum lawns, pools, hummocks and hollows. Sphagnum cover reaches 90% in certain locations. ARB also includes some active peat forming flushes.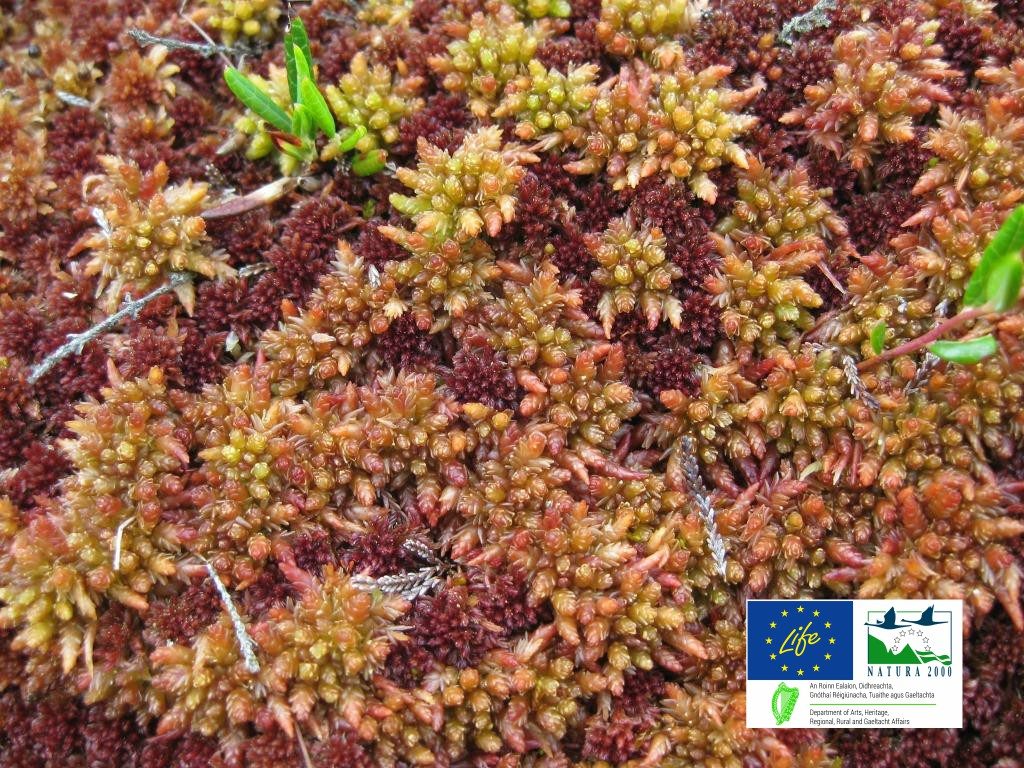 Degraded Raised Bog covers 78.23ha (59.93%) of the high bog area. It is drier than Active Raised Bog and supports a lower density of Sphagnum mosses. It has a less developed micro-topography while permanent pools and Sphagnum lawns are generally absent.
Depressions on peat substrates of the Rhynchosporion are found in both Active and Degraded Raised Bog, but tends to be best developed and most stable in the wettest areas of Active Raised Bog. The bog has a well-developed hummock and hollow system.
The underlying rock is Carboniferous limestone, with overlying gravely glacial till and Lacustrine deposits above this.
Deep peripheral drains surround the bog, some as deep as 4m. Surface drains are also present, mostly on the eastern side of the bog, and some of these date back to the early 1800's. The structure of the bog habitat has been affected by drainage. Peat-cutting along the margins of the bog has also led to the lowering of the water table within the adjoining, intact high bog areas. Peat extraction has discontinued but old face banks and cutover drainage have caused negative impacts on the high bog habitats in recent times.
Although the north-eastern section of the bog suffered from burning in the past, the majority of the site has been unaffected by this practice in recent years.
Thanks to the LIFE project, the prospects for Raheenmore Bog generally good. Previous works on the bog have yielded positive results, and we aim to build on these. We will publish the results of our works here in 2021.