The Living Bog has been both delighted and honoured to have played a small role in the creation of one of the finest books about bogs ever produced. 'Tapestry of Light' by renowned Birr, Co Offaly nature photographer Tina Claffey was released to widespread critical and commercial acclaim in October 2017, on Artisan House books. It is a stunning book, the ideal gift for anyone with more than a passing interest in the wonderful world of Irish nature and our native peatlands, which are among the world's oldest near-natural eco-systems.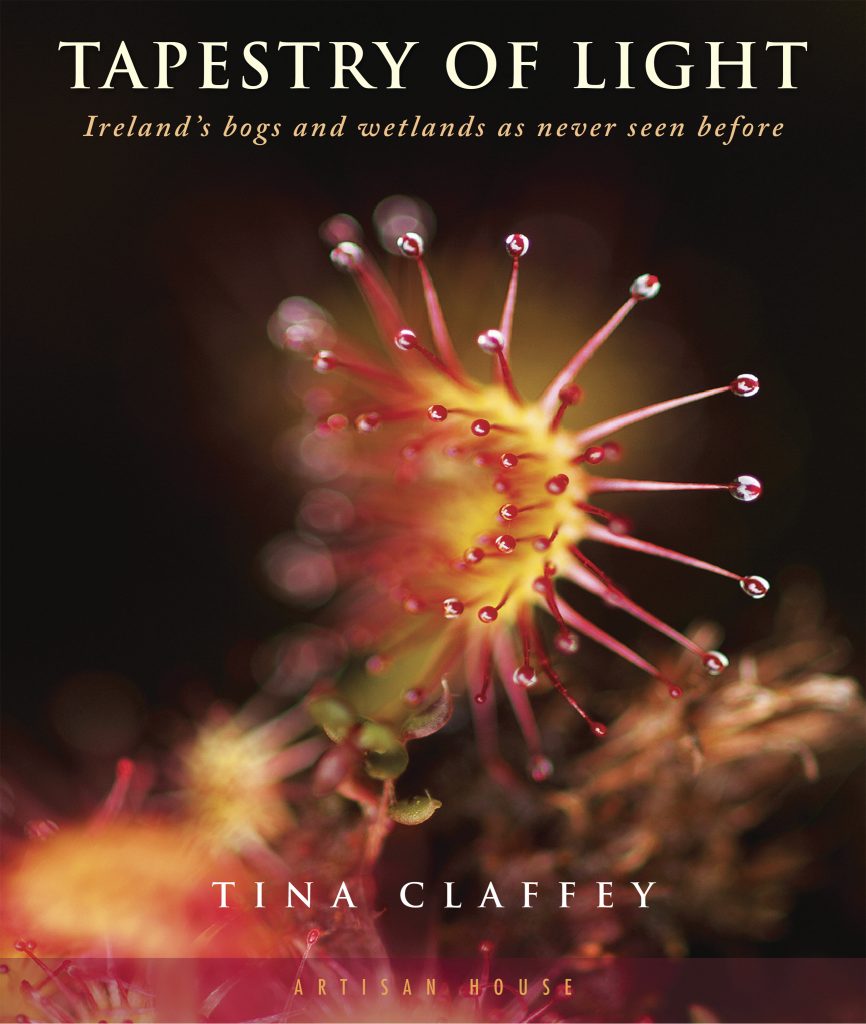 We met Tina early on in the Living Bog project. She is a vastly experienced nature photographer with an innate love for Ireland's bogs, peatlands and wetlands. She grew up in Offaly, surrounded by bogs, but her journey to capture the bogs of Ireland in her unique style was helped greatly by a bog walk by legendary Offaly ecologist, geologist, botanist, author and broadcaster Dr John Feehan. For almost 10 years prior to this, Tina lived and worked in pristine wilderness areas in Botswana, and this experience awakened an appreciation of the natural world of her home country. Since her meeting with John, she started to publish her photography online and it was there where we encountered her first.
Since we got to know her, Tina has photographed many of Ireland's most important raised bogs, including some of the Living Bog's 12 project sites. Her beautiful images reveal the commonplace as something new and exotic.
Her unique perspective of the flora and fauna of the unspoilt raised bogs and wet woodlands of the Irish midlands are celebrated on every page of Tapestry of Light – Ireland's bogs and wetlands as never seen before.
This 156 page, highly-illustrated and beautifully designed hard-back book shows bogs in a new light, and it would be a great gift for anyone who appreciates not just bogs but Irish nature and the environment.  The book will ensure that the reader will never view Irish boglands in quite the same way again.
The Living Bog have been delighted to have worked with Tina, and she was at the official launch of The Living Bog in Clara on Friday, September 15 whereupon she presented the Minister for Heritage, Culture and the Gaeltacht, Heather Humphreys TD with one of the first copies of the book. The now former Minister of the Department was most impressed with the book and wished Tina every success in the future.
A week later and Tina struck again, presenting no less a person than the President of Ireland, Michael D Higgins, with two special copies of the book at the National Ploughing Championships, held in Screggan, Tullamore, Co Offaly. The President was delighted to meet Tina and her son Tristan again. The last time they met, at the launch of the Community Wetlands Forum in Abbeyleix, they presented him with a beautiful framed photograph of a round-leaved sundew, which he told Tina at the Ploughing, now hangs proudly in the Áras.
Tapestry of Light was officially launched in Dublin on October 12 2017 by Dr Matthijs Schouten. In case you were wondering about the title 'Tapesty of Light', well, it is taken from the eponymous poem by John Sheahan, the renowned musician and composer with the famous folk group, The Dubliners, and that great man was also at the launch. 
The book includes a foreword by Dr. John Feehan and is published by bespoke publishers Artisan House in Connemara.
The Dublin launch was a well-attended event, and it saw 'Tapestry of Light; pick up some very positive newspaper coverage, with The Irish Times, the Farmers Journal, and Irish Examiner in particular writing about the book. Later in the year, both the Times and Examiner would recommend the book in their 'end of year' lists.
You can order the book online HERE and it is also available in all good book stores. 
To keep up to date with Tina and to see her excellent photography daily, she has a TWITTER page HERE and a FACEBOOK page HERE
---
MOONEY GOES WILD
RTÉ Radio 1, broadcast date: Sunday, 12 November 2017 
The Living Bog was the subject of a special report on RTÉ Radio 1's 'Mooney Goes Wild' programme – Ireland's biggest nature show. Derek Mooney's roving reporter, the legendary Eanna Ní Lamhna came to Clara Bog for the broadcast, and interviewed Ronan Casey of 'The Living Bog', Dr John Feehan and Tina Claffey.
You can listen back to the broadcast HERE
Sample press coverage for 'Tapestry of Light':
The Irish Times 
Online feature HERE
https://www.irishtimes.com/news/environment/tapestry-of-light-fabric-of-our-bogs-explored-in-pictures-1.3271298
Best Nature Books of the Year, by Michael Viney, HERE
Irish Examiner 
Feature on the book HERE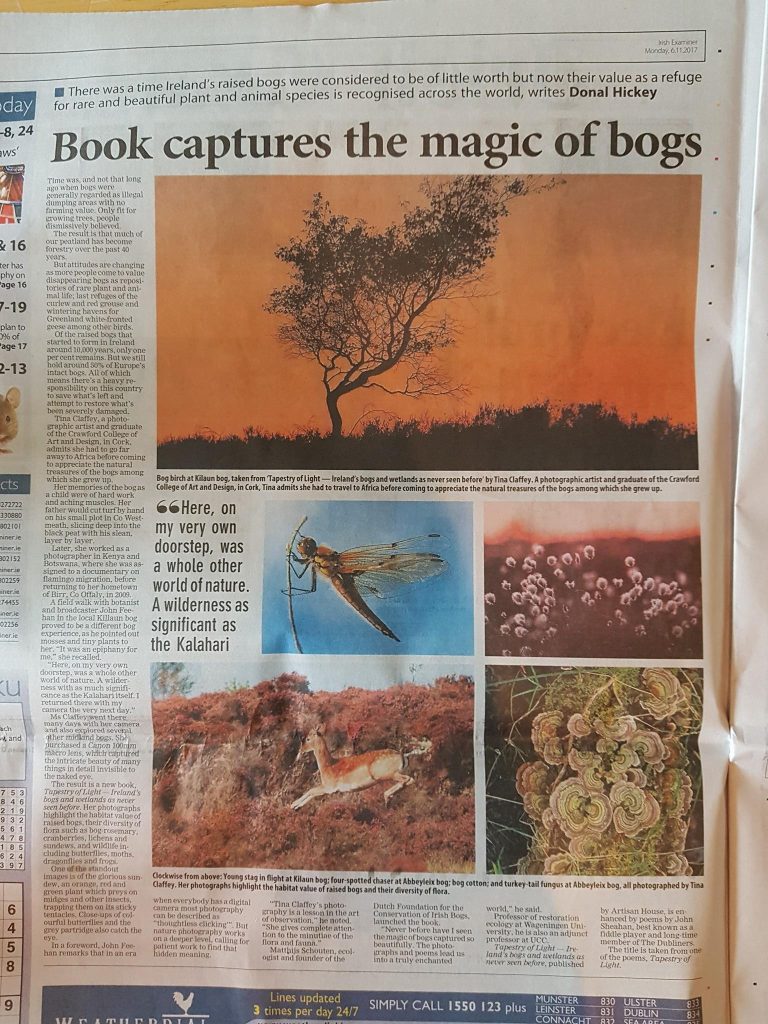 Farmers Journal
Feature on the book HERE (log-in may be required)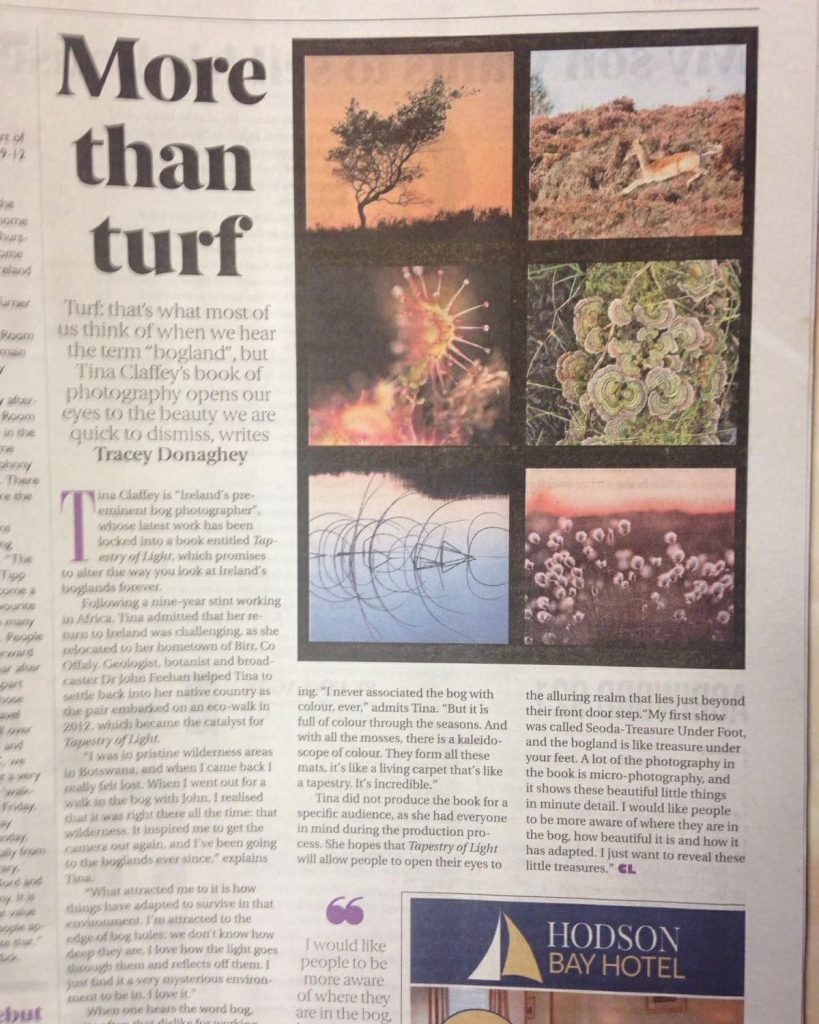 Clara Bog Visitor Centre Exhibition
In the run up to the launch, for most of September and October, some photographs from Tina's 'Elements' exhibition were on display at the Clara Bog Nature Reserve Visitor Centre in Clara, Co Offaly. The exhibition has since moved. Check out Tina's FACEBOOK page for more info on it, the book and for daily updates featuring wonderful bog photography.
The President and the Sundew
Mongan bog has been the subject of on-going intensive scientific research since 1972, and in 1978 served as a catalyst for the Dutch-Irish Bog Conservation Project which went onto become synonymous with bog conservation in Ireland.
Matthijs Schouten, who led the project, speaks of commencing research on another research project in the summer of 1978 on the climatic impact on bog vegetation. He and his team set off to find ten intact bogs in the Irish midlands – thinking this would be an easy task in a country of supposedly bountiful bogs. However, they found it difficult to find any intact ones, with drains, fires and peat production affecting practically every site they visited.
Eventually, they found eight relatively intact sites, but the team were dismayed at the seemingly relentless destruction of Ireland's peatlands. To lift spirits, the research team decided to visit the monastic site of Clonmacnoise.
As they arrived they couldn't help but notice a small raised bog they had missed on aerial photographs and maps. They decided to survey the site.
"What we found was the most beautiful bog that we had ever seen up to then. Never before had we seen such magnificent pool systems, such splendid Sphagnum lawns and hummocks; never before had we walked a bog that was so difficult to cross due to its wetness. We did not reach Clonmacnoise that day…"
But on the bogs Western end was a machine, with drains dug. They contacted Professor John Moore who in turn contacted Bord na Mona who in turn declared that "Mongan will survive."
A land swap deal was done with An Taisce, and they became the new owners of Mongan Bog. The intervention was key. According to Kelly et al in 1995, Bord na Mona had intended to extract peat from the bog, and had inserted drains at both ends in 1978. The eastern and western drains were dammed by Groundwork volunteers working for An Taisce between 1984 and 1986 and as part of an ECO training course in 1986.
Writing in 'Celebrating Boglands', published by the IPCC in 2002, Dr Schouten says: "Looking back, I think this is where it all began. This completely unexpected success in saving Mongan Bog was the basic inspiration for the 'battle of the bogs'. It gave hope, confidence and above all enthusiasm."
Soon after the Dutch Foundation for the Conservation of Irish Bogs was formed.
Another visitor who was very excited about Mongan was well known UK personality Dr David Bellamy who came here on his honeymoon, before large-scale peat exploitation and extraction started on the nearby Blackwater Bog complex. He declared it to be the most exciting event of his honeymoon!